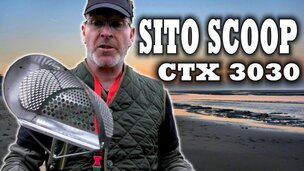 A beach sand scoop is the most important item you bring besides your detector Why? Because once you have located the target with your metal detector you need to dig it up. This is where a beach sand scoop comes in because it is as simple as sifting through the beach sand until your target appears at the bottom of the scoop. And when Coin shooting on the beach time is of the essence. Have a look at the metal detecting sand scoops below and figure which one is right for you. Think about the material you want it to be made out of and if you want a handheld, knee high, or long handled scoop.
Plastic is inexpensive, lightweight, and is good because you can swing your detector over the plastic sand scoop to see if you have the target. With the right tools, some detectorists even make their own. However, plastic is also going to wear the quickest. Use a plastic sand scoop if you are going to focus on hunting any dry sand beach with loose sand that doesn't have many shells or rocks.
Aluminum is considered the middle of the road, having the lightweight properties of plastic, while having durability closer to steel. Aluminum scoops work well in the dry or wet sand and can handle sand with shells and some smaller rocks. Many metal detectorists use aluminum because it is affordable, light, and strong.
Stainless Steel is the most durable but also has the highest price and can be heavy. The Stainless sand scoop for metal detecting can handle all types of sand, including large rocks as the tip is less prone to being bent, and bear in mind the size of the holes as to large smaller target can fall through and keep dropping through causing frustration. Also, stainless steel make great water scoops because their weight helps you plunge deep into the wet sand with the use of your foot.
Carbon Fiber

New and quite expensive but very strong and resists corrosion
PLASTIC/STEEL HAND HELD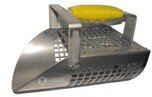 These are the perfect accessory if you want to start beach metal detecting. It is as simple as bending over or dropping to one knee and scooping beach sand, shaking until there is nothing left but your target. Plastic handheld beach scoops are the most popular because as mentioned above they are inexpensive and lightweight. Aluminum is great choice as well. If you do want a handheld beach scoop that can take a beating, steel is the way to go, but saltwater corrosion starts quickly, essentially all materials make for a great first beach scoop. Handheld beach scoops are also easy to take with you on a trip if you decide to travel

SHORT HANDLE SANDSCOOP

These scoops are designed for the dry sand. Knee high sand scoops are popular because you do not have to bend down as much as with handheld, making digging easier. They also give you a little more leverage. I would recommend either aluminum or stainless steel because you are putting a lot more force on the mouth of the sand scoop. These make a great travel scoop because depending on the length they will easily fit in a suitcase. Use this type of beach metal detecting scoop when hunting the dry sand of the beach.

HEAVY DUTY FOR WET SAND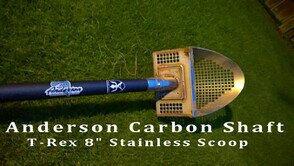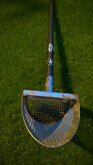 These metal or Carbon fibre sand scoop handles are for the serious detectorist! These are going to be more expensive but they are high quality and make target acquisition easier in the water. Stainless steel is recommended. I use a large stainless steel scoop. What makes this style sand scoop so popular is that you do not need to bend down to scoop beach sand. You use these scoops like you would a shovel, and they move sand much quicker than a shovel or spade. Place the lip of the scoop into the ground and with your foot, press the scoop into the sand, then with your hand grip the scoop and slowly pick up the scoop, even move it around to get past rocks and stones, watching the sand clear out, or rinsing out the sand in the water that is left in the hole or in fact even in the water your detecting in leaving the target behind. If you are a wet sand or water hunter, these types of water scoops are a necessity. However, if want to metal detect the dry sand, stick with aluminum, stainless steel is far too heavy and is unnecessary. Remember, having a good beach sand scoop will increase your beach metal detecting finds because you will be able to quickly acquire targets giving you more time to hunt.